Opinion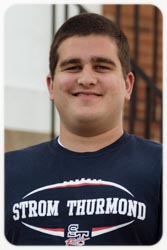 – By G. Miller Thompson –
I recently finished reading the book Not a Fan by Kyle Idleman, a preacher in Kentucky.  The book is a bestseller and I strongly recommend reading it if you have not already.  Idleman discusses the differences in being fans and followers in relationship to our walk with Christ.  Now, you may remember a fairly controversial article I wrote several months ago in which I issued a call to action to Christians everywhere.  My experience with the response to that article taught me many things.
I want to be careful not to give away much to the content of Not a Fan because I hope you will read it for yourself, but the comparison between fans and followers is simply too good to pass up.  Being a fan entails knowledge, sometimes extensive knowledge, of some person or thing.  Fans know more than the average Joe, but they do not truly know the object of their affection.  Followers, on the other hand, have intimate knowledge of the object followed by action.
Luke 9:23 says, "Then He said to them all, 'If anyone desires to come after Me, let him deny himself and take up his cross daily, and follow me.'"  Chances are you have heard this verse more times than you can count.  We must take care not to lose sight of what the verse means.  The key word there is daily.  The Bible does not say "when it's convenient," or "if you're in a God mood today," or "if it's okay with you."  It says "daily."  See, following Christ is a daily decision one must make.
If you look at the comments on the article I mentioned earlier, "It's on Us," you will notice the attempts of many people to shut me up.  I felt led to write that article and did my part to be obedient.  I do believe that Christians remain the majority in our nation, but a silent majority does little good.  Someone told me I had "kicked a hornet's nest" the morning the article was published online.  The point behind all this is to say that following is not easy.  If it were, God would not have had to remind us that taking up our cross is a daily decision, rather than a one-time thing.
In Not a Fan there are several "Not a Fan Stories" in which Idleman includes letters from individuals who experienced some event which caused them to make a "Not a Fan" commitment to God.  Reading those stories gave me both inspiration and reassurance.  I was inspired by the courage of these individuals to share their stories and reassured that I am not alone in enduring life's struggles.  We tend to bottle ourselves up when struggles surface as if no one else could understand whatever it may be that we are going through.  It is important to note that struggles are everywhere.
I want to end this article with a few action steps:
1.)   If you have not read Not a Fan, do so.  If you have, recall the parts of the book that stood out to you.
2.)   Write Luke 9:23 on an index card and keep it somewhere that it will serve as a strong reminder.
3.)   Prepare yourself for the adversity you will inevitably face by becoming a proud follower.
Pray for strength, for you and anyone else who may also make this commitment
—
The views and opinions expressed here are those of the author and do not necessarily reflect those of The Edgefield Advertiser.
Have something to say? Please leave you comments below.