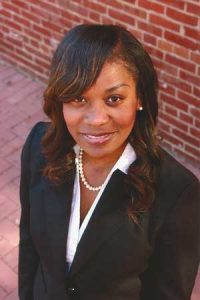 Miss Kathy S. Oliphant graduated on April 26, 2014, from Georgetown University earning an Executive Master's degree in Business Administration (MBA).  She holds a BA degree in history education and an Master of Education in counselor education, from S.C. State University.
Ms. Oliphant was awarded a US Army Green to Gold Scholarship to pursue her MA degree and was commissioned as a second lieutenant.  She is an Army veteran who proudly served her country for nearly 10 years. She currently works for Naval Sea Systems Command as a Government Furnished Systems Manager where she manages all integrated logistics support for complex technology systems installed on the Gerald R. Ford Aircraft Carrier.  She is a leader in the 21st century and is pursuing a position in the Senior Executive Service career field.
She is a 1991 graduate of Strom Thurmond High School and is the daughter of Robert and Kathy Hall Oliphant of Johnston, S.C.