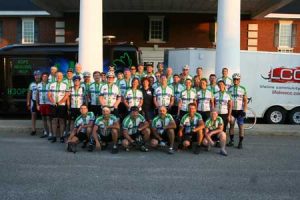 A large group of bicyclists enjoyed a stay at The Edgefield Inn recently on their way to the coast of South Carolina.  They started in Seneca and came 104 miles to Edgefield, and left the next morning for the coast. This was on June 19-21.
They are riding with a purpose; their Web site spells that out www.scride4life.com  Each biker raises money for the trek, and in turn their funds go to the group sponsoring the ride.  This time is was Pro-Life emphasis, therefore a Ride For Life.
Their Web site states: The ride is an annual trek across the state; the Golden Corner's only bike tour with a Pro-Life emphasis. Riders travel from Seneca to different coastal destination in North Carolina, South Carolina or Georgia over three days in June. You'll enjoy the physical rigors, a sense of achievement, and the satisfaction of knowing you have helped support this ministry.