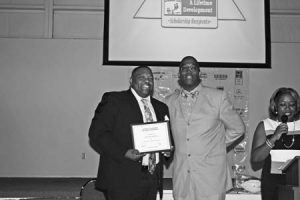 Choices- A Lifetime Development sponsored its 5th Annual Scholarship Banquet on Sunday, June 29, 2014 at 6pm at Old Macedonia Baptist Church's Family Life Center.
There was a grand ole time had in a very electric atmosphere that boasted participants and honorees from both sides of the Savannah River and a speaker out of the state of Texas. The emcee for the evening was TV and radio shows "Education Matters" host, Mrs. Donna Moore Wesby. The keynote Speaker was Mr. Langston Moore, former USC Gamecock, 7-year NFL veteran and current USC football sideline reporter.
This year's Choices Scholar Recipients were Christopher Henderson (STHS); Haley Christian (Harlem HS); Anneliese Leahy (Lakeside HS); Devin Chiles (McCormick HS); and Cheyenne Sims (Harlem HS). A couple collegiate award recipients were Re'ven Smalls (Clemson Graduate) and Antonio Hamilton (SCSU Athletic and Academic Standout). The Koda's Kids Foundation (DeKoda Watson of Aiken, SC and Jacksonville Jaguars) received a Humanitarian Award for the great work they do in the community.
Four CHOICES Jr Scholars were RJ Mckie and Jessica Palmer for their Academic prowess and Kaleb Mckie and Malik Thomas for their character. They will be competing at the North American Finals Track and Field Meet in Hershey Park, PA in their respective events – 200M, 400M and Standing Broad Jump.
There were several special guests in attendance including: Master Kenneth Jenkins, Jr. performed a very powerful liturgical piece; the L. Carlton Hearst Drama Group performed a 7-minute skit on life lessons; Mr. Kevin Jones, President of the SC Football Hall of Fame and the College All Star Bowl; Matt Hazel (WR) of the Miami Dolphins; Jakar Hamilton (DB) of the Dallas Cowboys.
(submitted by Errol Thomas)