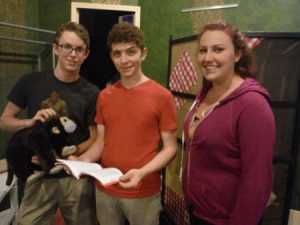 But for Now Kenneth McCormack, at 17, Directs a Play
Kenneth McCormack is quick to say that his interest in Broadway has nothing to do with the wish for "starpower," but rather his interest is in the great advantage in New York of the scope of the performance industry, thus the greater possibilities for having a real career in the theatre.  This has all been building inside of him since he first worked backstage as a pre-teen, introduced to it by his mother at the Aiken Community Theatre.  She is acting in this play that he is directing – at the William M. Bouknight Theatre in Edgefield – Miss Firecracker Contest.  It will open next week on July 11.
Looking back from age 17, now, Kenneth notes that he was a "socially awkward kid," and the theatre gave him a place to learn more about himself.  He was in a play or two, but when, at age 13, he played Judge Hawthorne in Arthur Miller's The Crucible, he knew he had a place in the theatre. He was 16 when he played the autistic boy in Second Samuel, one of the Edgefield County Player's productions of last year. He let the word out that he would be interested in directing, if there were an opportunity.  Evidently the Players saw a match in Kenneth and this play, Miss Firecracker, and he is loving the opportunity.
McCormack notes that Beth Henley is the dramatist and another of her plays is Crimes of the Heart.  He points out that she does write comedy, but with the kind of depth that puts one in touch with the issues that have made each character the "messed up" people that each is.  He notes that the character Carnelle Scott, for example, the lead character, is all plastic smiles and veneer, and in Henley's style one learns the depth of her problem, not necessarily to weep over it, for there is sadness, but Henley provides levity and humor to ease the sadness.  (One only has to remember the character in Crimes, played in the movie by Sissy Spacek, who is so sad about life that she puts her head in the gas oven, wanting to die, but her clumsiness saves her, or at least that is the memory.)
So Carnelle is not all flash and glamour.  Kenneth notes that Carnelle's seamstress is more a foil for this character; she has traveled the world, has more self esteem, and is able to be true to herself.
Therefore, one is not talking about slapstick humor – some might call it dark humor – but humor and human nature, nevertheless.
Kenneth says the Players came to him and suggested this play for him. And he is looking forward to directing one next year – an old favorite Arsenic and Old Lace.
McCormack is a rising senior.  He was in South Aiken High but is doing the K-12 online.
An interesting time line: seven years ago he started backstage (age 10?) and never thought he would go on the other side of the curtain.  Then at age 13 he fell in love with being onstage, and, now, Edgefield's audience has a chance to see him in this first venture out front, directing.  For more, see the ad on page 6, sect. 1; or call 637-3833.