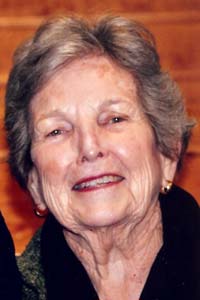 JOHNSTON, S.C. – Funeral Services for Mrs. Mary Calvert Davis, age 85, will be held Tuesday, July 8, 2014 at Johnston First Baptist Church at 1 pm with burial to follow in
Poplar Springs Baptist Church Cemetery, Ware Shoals, at 3:30 pm. Grandsons will serve as pallbearers. Honorary pallbearers will be members of the Gleaners/Fidelis Sunday School Class and Jessie Mobley Circle. The family will receive friends at Bland Funeral Home Monday evening from 6-8 pm.
Mrs. Davis, a native of Ware Shoals, died, Friday, July 4, 2014. She was a daughter of the late John Thomas and Nellie McCurry Calvert. She was a retired media specialist, member of the Edgefield County Hospital Women's Auxillary, Gleaners/Fidelis Sunday School Class, and the Jessie Mobley Circle.
Survivors include 3 daughters: Rebecca Lamb (Jim), Gilbert; Lynn Carlson (Eric), Johnston; Bonnie Snead (Michael), Matthews, NC; Sister: Doris Tunstall, Greenwood. Grandchildren: Amy Hall (Ron), Nick and Adrian Carlson, Scott, Jessie, Matthew, and Davis Snead. Great Grandchildren: Ken Hall (Holly), Joshua and Angela Hall, Mary Elizabeth, William, and Finn Lamb, Maddie and Riley Reid. Great Great Grandchildren: Landon Hall and Lizzie Lang, and a number of nieces and nephews. She was predeceased by her husband, John Davis, Jr. and one grandson, William Lamb, Sr. (Anne Elizabeth)
Memorials may be made to Kangaroo Kids Backpack Ministry c/o Mt. Calvary Lutheran Church, 1186 Mt. Calvary Road, Johnston, SC 29832.
Please sign guestbook and send condolences to family at www.blandfh.com.