WASHINGTON, D.C. – Outstanding middle school students from across the United States will take part in an extraordinary leadership development experience, the 2014 Junior National Young Leaders Conference (JrNYLC): Foundations of Leadership I, an Envision program. The program provides a historical view of leadership and encourages young scholars to develop their own leadership skills and strategies for success in the 21st century.
The Junior National Young Leaders Conference enables students to recognize their own leadership abilities in the context of great men and women from the past and present," said Marguerite Regan, Ph.D., the dean of academic affairs for JrNYLC. "They return home with new confidence in their ability to make a positive impact in their school and communities. Washington, D.C., serves as the perfect backdrop for this inspiring program to generate a new generation of U.S. leaders."
At the six-day conference, sixth-, seventh- and eighth-grade students take part in fun and exciting workshops and participate in simulations to confront the challenges faced by historic leaders from the nation's past. Scholars also explore historically significant sites such as Harpers Ferry National Park and the National Mall to explore museums, monuments and memorials dedicated to U.S. founding fathers.
Amaryn Elize Smith has been selected from this area to attend the Envision Leadership Program. She was asked to write a biography, found below.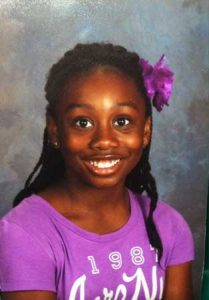 My name is Amaryn Smith and I am the daughter of Wilson and Gail B. Smith. The granddaughter of John B. (deceased) and Ethel B. Butler of Trenton, SC; W.A. and Margaret Smith (deceased); and John Jackson, Edgefield, SC. The great-granddaughter of Elizabeth Jones Burt, Trenton, SC.
My Principal, Mr. Bobby Turner at Douglas Elementary, selected me to attend the Junior National Young Leaders Conference 6 day Envision Program in Washington, D.C.  I will be attending the August 2-7, 2014 Conference. I am hoping to learn more about leadership, our country's history, and how to be successful as I grow up.
At Douglas Elementary, I was in The Gifted & Talented Program; The Vice-President of the student body; and on the A-Honor Roll. I am a rising 6th grade student who will be attending JET Middle School in the Fall.  I participate in dance, gymnastics, and music lessons. At my church, Mt. Canaan Baptist Church, I am a member of the girl's club, on the choir, the youth praise team, and I am a praise dancer. My favorite things to do are dance, arts and crafts, and gymnastics. I also love to read, explore, and draw. I am working towards becoming a star gymnast. I love working with children and helping them out when I can. When I grow up I would like to become a teacher.
For more information about the Junior National Young Leaders Conference, Foundations of Leadership I, visit www.envisionexperience.com/Leadership.