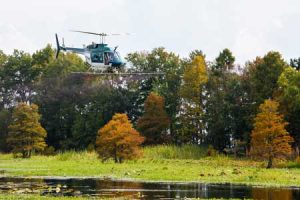 MONCKS CORNER, S.C. – From Aug. 5 through Aug. 15, Santee Cooper will conduct helicopter treatments of Environmental Protection Agency-approved aquatic herbicides in lakes Marion and Moultrie, targeting the invasive aquatic plant crested floating heart.
Non-native crested floating heart is an aggressive plant, which is very difficult to control. At present, very few herbicides are effective in controlling this plant and there are no biological controls available. Out of the more than 5,200 acres currently infested by crested floating heart, approximately 2,800 acres in higher traffic areas will be treated. These applications should improve lake access for residential and commercial properties, improve recreational opportunities, and help prevent the spread of these plants to other areas within the Santee Cooper Lakes system.
To notify boaters of spray operations, Santee Cooper employees will patrol the spray sites on airboats and post signage at public and commercial boat landings located near the targeted locations.
Lake users are asked to avoid the following areas during these operations:
Lake Marion (Calhoun County): Low Falls/Halfway Swamp, Stumphole Swamp
Lake Marion (Clarendon County): Elliott's Flats/Tree Line, areas adjacent to Santee River discharge to channel marker 158, Cantey Bay, Jack's Creek impoundment
Lake Marion (Clarendon County): Santee National Wildlife Refuge – Bluff Unit
Lake Moultrie: areas adjacent to mouth of Diversion Canal, Quattlebaum Cove, Sandy Beach Waterfowl Management Area
Santee Cooper is required by federal law to maintain navigation in the lakes. Questions concerning these operations can be directed to Santee Cooper's Analytical and Biological Services unit at 843-761-4078.