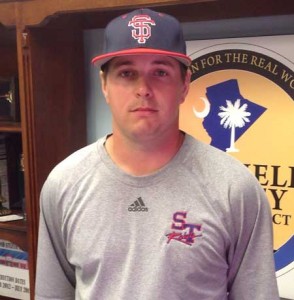 The Edgefield County School District has announced the hiring of Mack Hite to be the new head baseball coach at Strom Thurmond High School. Coach Hite replaces Coach Christopher Zylstra who left at the end of this school year to be an assistant baseball coach and teacher at South Aiken High School.
Coach Hite is a graduate of Abbeville High School where he played both football and baseball. Upon graduation from Abbeville, Hite then received a baseball scholarship from Presbyterian College. As a baseball player at Presbyterian, Coach Hite was a starter for three years and he was also captain of the team for two years.
Coach Hite immediately joined the coaching ranks upon his graduation from Presbyterian when he accepted a job offer to coach as an assistant in both football and baseball at Greenwood High School. He also taught social studies at Greenwood High School which he will also teach at Strom Thurmond High School.
During the same time period that Coach Hite was an assistant baseball coach at Greenwood High School, he was also the head baseball coach for American Legion Post 20 during the summer months.
Coach Hite is already highly regarded in baseball circles throughout the state at such an early age. He is known as a fierce competitor and a great teacher of the game. Those who know him personally also indicate that Coach Hite is a tireless worker as well.
Superintendent Greg Anderson added that Coach Hite uses the game of baseball to teach members of his team valuable life lessons. This is an essential element that the Edgefield County School District looks for throughout the hiring process of any of its employees. Anderson stated "We have to remember that our students are not yet adults and are very impressionable at this age. We make it a prerequisite that any hire we make must maintain high moral attributes and set an example to all of our students. Coach Hite fits these requirements perfectly."
Athletic Director Doug Painter added "After an exhaustive search, we are both pleased and excited to be able to get a first class coach such as Coach Hite."
The Edgefield County School Board met in a special called meeting on Friday, July 11 to accept the recommendation of the administration and make it official that Coach Hite would be the new baseball coach at Strom Thurmond. Coach Hite wasted no time going to work and has already started conducting summer workouts. Based on his initial observations, Coach Hite likes what he has found so far. "There is a tremendous amount of talent here and the community support has been phenomenal. The baseball program at Strom Thurmond is a sleeping giant and I am going to do everything I can to wake it up" Coach Hite stated.
Coach Hite continued "I very much appreciate the opportunity to be the head coach of the baseball team at Strom Thurmond. I want to thank the school board for placing its confidence in me. I want to say a special thank you to the parents and community for providing me with such a warm reception. I will work as hard as I can to fulfill the expectations of me".