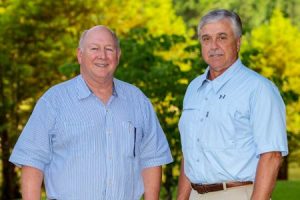 Tom Stuckey, a well-respected and seasoned outdoor industry professional, recently joined the National Wild Turkey Federation (NWTF) as senior vice president of development. Stuckey will lead the development department, which is responsible for discovering and cultivating relationships with upper-level donors to the NWTF.
The Palmetto Shooting Complex will be a premiere destination for shooting and outdoor enthusiasts and is a big focus of the development department. Save the Habitat. Save the Hunt. Programs will also benefit from the work of the development department."I am thrilled to join the NWTF at such an exciting time," said Stuckey. "The hooks were set the first time George Thornton, NWTF CEO, gave me a tour of the future site for the new Palmetto Shooting Complex and outdoor education center."
Stuckey is well known in the turkey hunting world. He has been an NWTF member since 1973 and is a former NWTF Grand National Calling Championships winner. He has appeared in numerous hunting TV shows, magazines and news articles. His work as a seminar speaker and mentor to future generations of hunters is also well documented.
"Tom brings another outstanding industry reputation to the NWTF team. We are excited for him to help us make the Palmetto Shooting Complex a reality as we enter a significant growth phase for the development program at the NWTF," said Doug Saunders, NWTF executive vice president of marketing and development.
Before joining the NWTF, Stuckey worked for Outdoor Marketing Group, a leading representative for many manufacturers in the shooting sports industry.
The NWTF Save the Habitat. Save the Hunt. initiative is a charge that mobilizes science, fundraising and devoted volunteers to give the NWTF more energy and purpose than ever. Through this national initiative, NWTF has committed to raising $1.2 billion to conserve and enhance more than 4 million acres of essential upland wildlife habitat, create at least 1.5 million hunters and open access to 500,000 acres for hunting, shooting and outdoor enjoyment. Without hunters, there will be no wildlife or habitat. The NWTF is determined to Save the Habitat. Save the Hunt.