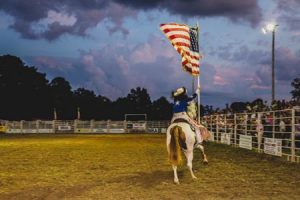 The Sandy Oaks Pro Rodeo is on schedule for August, 22nd and 23rd, at the Lazy J. Arena on Hwy. 23 West. This rodeo is a part of the International Professional Rodeo Association, and always brings the largest sporting crowd of any sports here in the county, good weather or bad.
The performances are at 8:00 p.m. on the dates above, gates opening at 6:00.
This is a popular family event with special pricing for groups, children and seniors.  Sponsored by both local businesses and national ones, the event holds much good entertainment.  Tickets can be bought in Edgefield, Johnston, Aiken, Saluda, North Augusta and Augusta (see posters about town). In Edgefield and Johnston: SRP Federal Credit Union, Crouch Hardware, and Maxwell and Halford Drugs.