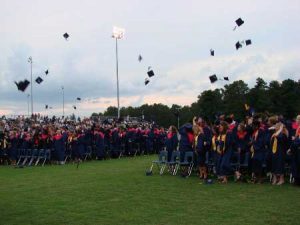 It is now official. Although it was one of the smallest senior classes in recent times, the class of 2014 at Strom Thurmond High School shattered all previous records in the amount of money that was awarded to members of this class in scholarships. The total amount of $4,022,280.00 broke all previous records at the school and more than doubled the amount that was awarded last year.
School Superintendent Greg Anderson stated "This is a tremendous accomplishment and a tribute to the Guidance Department and the Administration at Strom Thurmond High School. The directives we have received from our school board are clear. We must do all that we can to increase the graduation rate and improve test scores at all of our schools. At the same time, we must not forget the other end of the spectrum and we must help our students be aware of the scholarships that are out there and provide them with all of the tools and information possible to give them the best chance to receive a scholarship. We believe that this clearly demonstrates that we are trending in the right direction in all areas of education."
School Board Chairman, Dr. Carroll Wates added "Everyone on the school board knows how expensive it is to further one's education in college. Every dollar we can find for our students in the way of scholarships is extremely important to the families in our community especially in these economic times."
"We congratulate the students in the class of 2014 and appreciate the hard work that our Guidance Department performed to make this possible" Wates further stated.