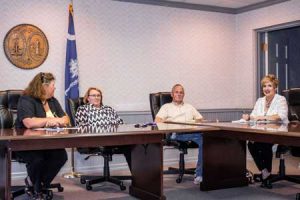 The festival is growing!  In 2013 it came to the square – one of the most beautiful town squares found anywhere – and will be there again on September 27, 2014.  However.  It has grown, so that it will reach from the Courthouse all the way down Main to Piedmont Technical College where the car show will be.  So readers, get ready for a great festival!
Advanced tickets will be sold for the new event this year, an oyster roast which will be on the Advertiser side of the square, sponsored by the Edgefield County Chamber of Commerce. Arts, Crafts, Food, Bingo, Classic Car Show, Antique Tractor Show, Southern Eagles Motorcycle Show, Bouncers for the children, Historic Events – all these attractions to entertain the crowd.
Vendors will be lined along the street, ready to sell their specialties. The day will end with a street dance featuring Jimbo Durham and The Shag Attack Band from 8-11:00. Attendees may want to bring their folding chairs to enjoy the music.
Working to organize the festival at a recent meeting were: Chamber Director, Donna Livingston; Town Clerk Charlotte Cheatham; and the couple who made it happen so successfully last year, Sonny and Wanda Seawright.
Tee Shirts will be available soon, in Carolina Blue. Calling for volunteers; for info contact the Seawrights at 637-3400, 637-6687 or swseawright@yahoo.com