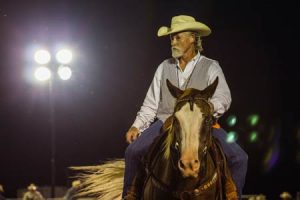 – By Tiffani Ireland –
The 9th annual Sandy Oaks Pro Rodeo is once again coming to the Lazy J Arena on Hwy 23 West, Friday and Saturday nights, August 22 & 23.  Gates will open at 6:00 each evening, and the performances will start at 8:00.  Tickets are on sale now and prices can be found on the Web site (below).  This year's rodeo is again produced by Ken Treadway Rodeo Company and will feature not only popular rodeo sports such as bull riding, barrel racing, and bareback riding but will also have plenty of extra activities for children, especially, to enjoy.  There will be a Ferris wheel, various carnival rides, pony/horse rides, and a petting zoo.  Please note that these extra activities also will cost an extra fee.  There will also be lots of good food and drinks available, including peanuts, and various vendors.
Sandy Quarles, who along with husband Wesley, owns Lazy J Arena and hosts the rodeo each year, recently spoke with The Advertiser and shared her enthusiasm for the event that is quickly becoming a local tradition.  In speaking with Quarles, it became evident that the rodeo is truly a labor of love.  Quarles said it takes all year to get ready for event.  Once the rodeo is over, she said she sends out thank you notes, takes a little break, and then gets back to securing sponsors for the next year's rodeo.  "It's like a regular job," Quarles said.  Adding, "It's tiring but fun.  I love to do this."
Mrs. Quarles was quick to point out, however, that she does not work alone in seeing the rodeo come to fruition.  "I couldn't do it without the volunteers and Wesley," she said both of whom she assured have "just been phenomenal."  Quarles said there are about a dozen individual volunteers who help in numerous ways from manning ticket gates to putting up new railings on bleachers to painting.  Then there are the two fire departments, Westside and Merriwether, who donate their time by parking the many cars that flock to the site each night.  In speaking of her husband Wesley and the many volunteers who help make this event successful each year, Quarles said, "I don't know words to use to express my thankfulness for them."  And Quarles is also thankful for the many people, both local and not so local, who come out each year to see the rodeo and support its sponsors.
For more information on this year's Sandy Oaks Pro Rodeo, including ticket outlets and directions, visit their website at www.sandyoaksprorodeo.org or call 803-637-5369 or 803-480-0045.