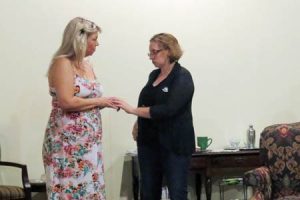 For all those theatre-going folks in the area, there is news at the Edgefield County Theatre: The Edgefield County Players are busy with a mystery play, the first of its kind to be produced at the William M. Bouknight Theatre.  This is a "first" and promises to be a real thriller.
All guilty parties are unknown until the last minute, and no one is giving away the secret!  A ticket will get you in to find out for yourself!  And the players are the following: Elaine Wheeler is Teresa McWilliams, John Wheeler is played by John Fowler, Blanche Cooke is played by Ali McCormack, Helga is played by Helene Fitch, Vanelli is played by Mitchell Bland, Curtis Appleby is Cleo Lamkin, Let. Walker is Sam Crouch and Dr. Tracy Lake is Bob Fitch.
Now that the reader knows the cast, it is time to plan to catch the whole show.  Tickets are now on sale.