Tuesday evening, September 2, 2014, Strom Thurmond High School was the setting for the awarding of Citizen of the Year, Teacher of the Year, and Support Staff of the Year for Edgefield County.  A tradition of some years now, The Chamber and the School District co-sponsor this event which includes these special awards with dining on a beautifully served meal and entertainment for all the guests.
Announced on Tuesday evening were: Citizen of the Year, Wayne Miller of Edgefield; Teacher of the Year, Amy Wilhelm of W.E. Parker and Support Staff of the Year, Melissa Swiger of Johnston Elementary.  Information on each honored person, leading to these selections, is found below.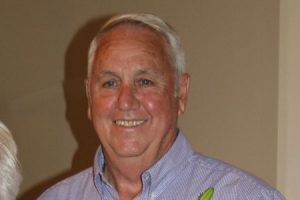 Citizen of the Year
Wayne Miller of Key Road (Westside), Edgefield, was presented the Citizen of the Year for Edgefield County, a special recognition that numbers many years, starting in the 90s.
He is a member and deacon of Red Hill Baptist Church, director of the Men Ministries, a team leader for Churches Changing Communities. Wayne is a volunteer extraordinaire, as he volunteers at the University Hospital, he drives a bus to pick up Hispanics during the summer for worship services at Providence Church and helps with Wildgame Suppers.  He is one of those men who go to homes of wheelchair persons to build ramps when needed.
Further he is noted as "a hard worker, willing to do whatever necessary to be of help."
Other ministries he helps with are: the prison ministry in Trenton and deer hung for Connie Maxwell and John De La Howe boys and girls. "He also loves his wife and children and their spouses, not forgetting those grandchildren." The person nominating him stated: "I consider it an honor to know and work with him."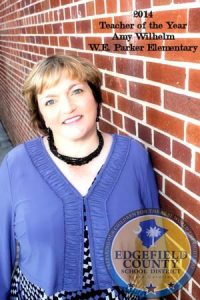 Teacher of the Year
Said of the TOY, Amy Wilhelm, by her principal: "When you look for the definition of a kindergarten teacher, Amy Wilhelm's name is certainly there.  Kind, compassionate, warm, nurturing, excited about learning, engaging, fun and dedicated are all words to describe her.  She has been dedicated to her profession for 26 years and her passion for teaching 5-year-olds has not waned.  When asked to consider putting her administrative degree to use, she replies, 'I can't imagine leaving kindergarten.  This is what I do and who I am.'"
She is a graduate of the University of Wisconsin and a citizen of Edgefield since 1988 – in her 27th year at W. E. Parker Elementary.  She has a Master in School Administration from Augusta State, is a National Board Certified teacher and mentor teacher.  In the community she is a member of St. Mary's Catholic Church, a member of the First Steps Board, and married to Stephen Wilhelm.  They have a son, Andrew.
A lovely comment states: "She has a true passion towards teaching.  Everyone around Parker and the community love and respect her."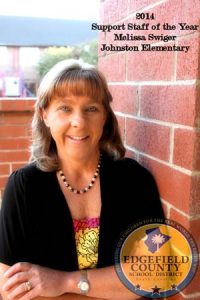 Support Staff of Year
Said in support of Swiger: "Melissa's primary responsibility is assisting a classroom teacher with students in a Child Development Class, [She] is a paraprofessional who is often mistaken as the classroom teacher because the students go home and talk about her as much as they talk about the homeroom teacher. . . She does more than just assist in the classroom, she is in charge of running the office each morning from 7:00 to 7:30."
Congratulations to these exceptional people, from the citizens of Edgefield County!