– By Gary Colman, Clemson Extension Agent –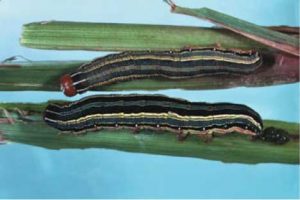 Fall Armyworm
Fall armyworms, Spodoptera frugiperda, are protracted pest in the Southeast. The worms feed on a variety of forage crops, but seem to prefer lush, green, fertilized Bermuda grass. Additional forage grasses that are hosts for armyworms are Bahia grass, pearl millet, sorghum-sudan hybrids, tall fescue, and various winter annuals including ryegrass, rye, wheat, and oats. More than 80 plants recorded as hosts of the fall armyworm, which majority of them being grasses. Armyworms have also been found on corn, alfalfa, cotton, soybeans, and most vegetable crops.
Time of Occurrence
Reports of fall armyworms for the southeastern area begin to come in during late July or early August. There are multiply generations of fall armyworms each year. Occasionally, we have seen severe outbreaks occur as early as mid-April. These pests are susceptible to cold, and are unable to survive even the mildest winters in South Carolina. Each year fall armyworm moths, carried by air tides, make their way from southern Florida, Central and South America, as well as Canada. The size and timing of the initial moth flights are two factors that stimulate the outbreak potential of this pest.
Fall Army Worm Damage
Fall armyworm damage may vary in appearance and severity according to the type of grass and management practices that are in place. In closely grazed fields, the grass may seem to be thinned out and develop brown spots similar to those sometimes seen on golf courses. Those appearances are the results of grass plants quickly dehydrating after fall armyworm larvae have chewed off the tender vegetation. For this reason, fall armyworm damage often resembles drought damage. In hayfields or in pastures, where there has been substantial growth accumulation, virtually all-tender green material may be removed, leaving only tough stems a few inches long distended from the soil surface. Fall armyworms damage on newly established grasses including winter annuals, tall fescue, and orchard grass can be an even more serious situation. Seedlings of these fall-seeded plants are small when populations of fall armyworms are at seasonal highs. These crops can be severely stunted or killed if fall armyworms feed too far down on them.
Description and Life Cycle
(Adult) The adult fall armyworm is an ash-gray moth with a wingspan of about 1-1/2 inches wide. The front wings are mottled and have white or light gray spots near the tips. The back wings are white with a narrow, smoky brown edge. Moths become active at twilight and feed on nectar. They have an average life span of two to three weeks.
(Eggs) The female moths lay eggs at night in multitudes of up to several hundred on light colored surfaces, such as fence rails, tree trunks, and the underside of tree limbs. The eggs are light gray and covered with grayish hair (fur) from the female's body. The multitude darkens with age, and the eggs hatch within two to four days. Normally, all the eggs from the multitude hatch about the same time.
(Larvae (caterpillars)) The tiny, light colored, black-headed larvae spin down to the ground on silken webs and begin to feed. As they grow, their bodies darken and noticeable stripes appear. When fully grown, larvae may be up to 1-½ inches long and vary in color from light green to almost black with several stripes along the body. Their face is marked with a light colored reversed "Y". Just behind the head, on the back of the caterpillar, you will see three thin white stripes running the length of the next segment. Sometimes these lines extend along the length of the caterpillar's body. There are usually small dark spots on the topside of each segment of the body. On the next-to-last segment, these spots are arranged like the corner points of a square.
(Pupae) Development from egg to fully grown larva requires about two to three weeks. At this point, larvae burrow into the soil and form pupae. The moths emerge in about 10 to 14 days.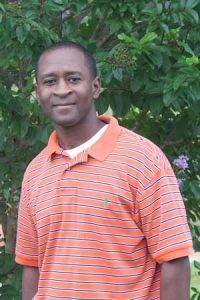 For more information on management tips for perennial grass pastures, hayfields, crops, and herbicides you can stop by our office at 304 Gray Street or (803) 637 – 3161 or call (864) 554 – 4504 Gary Coleman Area Extension Agent "Livestock and Forages".