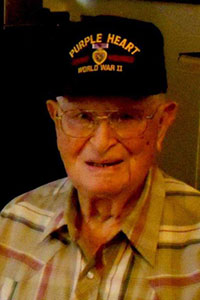 JOHNSTON, S.C. – James Robert "Jim" Butler, 98, resident of 156 Long Cane Rd., Johnston, died September 19, 2014 at Pruitt Healthcare in North Augusta.
A memorial service will be held Sunday, September 28, at 3 p.m. at Rocky Creek Baptist Church in Johnston.
Born in Saluda County, August 21, 1916, he was a son of the late Robert Madison Butler and Minnie Lee Burnett Butler.  Mr. Butler proudly served his country during World War II as a machine gunner in the US Army and fought on the European Front in the Invasion of Normandy.  He was wounded twice and was the recipient of two Purple Hearts and five Bronze Service Stars.  After the War, he returned to Edgefield County where he was a chicken and cattle farmer for many years.
Mr. Butler was the oldest member of Rocky Creek Baptist Church and was also the oldest member of the American Legion, Post #154 in Johnston.
He was the last surviving member of his immediate family and is survived by nephews, Robert (Wanda) Butler of Greenwood, Danny (Cathy) Butler of Greenville and James (Pat) Butler of Greenwood; nieces, Ellen Bledsoe of Clinton and Elizabeth Craine of Greenwood his extended family, "sister" Margaret (Dwight) Bledsoe and their children, Marion (Karen) Bledsoe, Tim (Ruth) Bledsoe and Janice (Roy) Cleveland, all of Johnston along with many nieces and nephews.  He was predeceased by a brother, Albert D. Butler, Sr. and three sisters, Alice Bolton, Nannie Lou Powell and Ophelia Gillian.
Graveside services will be at 1:00 PM Monday in Greenwood Memorial Gardens with Rev. Mike Hatfield and Rev. Bob Woodyard officiating.
The family is at the home of James and Pat Butler, 2270 Montague Avenue, in Greenwood, and will receive friends at Blyth Funeral Home from 11:30 AM to 12:30 PM Monday.
Memorials may be made to Rocky Creek Baptist Church, 632 Rocky Creek Road, Johnston, SC 29832.
For online condolences visit www.blythfuneralhome.com.
Blyth Funeral Home & Cremation Services is assisting the Butler family.