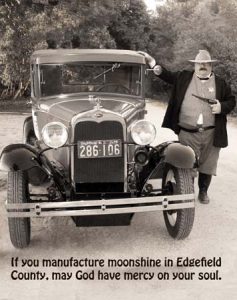 The Old Edgefield District Genealogical Society and Edgefield Civic League are hosting the "Southern Studies Showcase" in Edgefield on September 19 and 20, 2014. Over a hundred people are registered to attend this exciting event. Twenty-two workshop classes will be held over the course of the two days, with local and out-of-town speakers giving lectures on a variety of topics. There are lectures on Confederate history, including The Confederate Treasury: The Final Disposition and The Missing Confederate Gold: Midnight Raid at Chennault, GA; A Legacy of a Common Civil War Soldier; and The Pickens County Confederate Sesquicentennial Project. There are African-American topics, such as Robeson County, NC: Lessons from the Records of Slaves & Free Persons of Color; Black Pariah? Prince R. Rivers: Soldier/Legislator in the Roman Candle of Black Reconstruction in the CSRA; Documenting Hammond Plantation Communities; and Overcoming the Roadblocks in African American Genealogy. The keynote speaker will be Mr. George Wingard, who will show the award-winning documentary Discovering Dave: Spirit Captured in Clay.
Other topics include Richland Library – Using Social Network and Genealogy; Legacy Family Tree software; The US Constitution and the Information Age; Savannah Area Genealogical Association; Cherokee Trail; John Lewis Gervais' Old Edgefield County plantation and how it solved a major mystery from 1775; Rockton, Rion & Western Railroad, the operating railroad of the South Carolina Railroad Museum; "Ask Granny;" Through the Carolinas to Georgia & Back: Using the Fagan E. Martin Family of Greenville, SC as a Mid-19th Century Case Study on Migration; Native Americans in the CSRA; The Martin Family Women; Benefits and Challenges of Using Digital Records of the South Carolina Department of Archives and History; and Abbeville Court Records.
Vendors from across the state, including The History Press and the University of South Carolina Press, will also set up tables with displays, and books and other items for sale. This year the vendors will be set up in the historic Trinity Episcopal Church Parish Hall.
A "Block Party" on the Edgefield Courthouse Square will be held Friday evening from 6:30 p. m. to 8:30 p. m., including a catered Southern dinner by Chef Bob's Cafe and lively music. You need to "speakeasy" because this year the Southern Studies Showcase is taking on Prohibition and the Roaring 20's at the "Block Party." The theme is "Edgefield During Prohibition." Period dress is encouraged (but not required), and prizes will be awarded to the best period costumes. There will be Model A cars, moonshiners and more at this year's "Block Party."
This two-day gathering will begin on Friday at 10:00 a. m., with speakers and workshops. On Saturday speakers and workshops will be held from 9:00 a. m. until 4:00 p. m. Time will be allotted on Friday and Saturday for lunch at local restaurants, shopping with local merchants, and visiting of local historic and tourist sites.
There will also be a kiln opening by Old Edgefield Pottery on Saturday from 8:30 a. m. to 10:00 a. m., a special "lunch and tour" at Oakley Park on Saturday from 12:00 p. m. to 2:00 p. m., a tour of Willowbrook Cemetery on Saturday from 1:00 p. m. to 2:00 p. m., and other special events scheduled during the Showcase to further highlight Edgefield.
The Registration fee for the Southern Studies Showcase is $40.00 and includes the "Block Party" Friday night.
If you have any questions or concerns, please contact Tonya Guy at 803-637-4010 or OEDGS85@gmail.com.