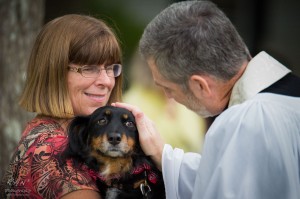 The 14th annual Blessing of the Animals, hosted by the Episcopal  Church of the Ridge, will be Sunday afternoon, October 12th at 3 p.m. at Our Savior Episcopal Church, Trenton, S.C.  The blessing gives us a chance to celebrate the feast of St. Francis of Assisi and to express our gratitude both to the animals in our care and to God for the gift of animals.
Your pets must be on leashes, or in crates and you can come on horseback!  This meaningful event is open to everyone and each year our attendance has increased.   Bring a lawn chair and expect barking, howling, hissing…in all, great fun for the animals who bring us so much enjoyment.  In past years, we have had dogs, cats, birds, burros, goats, honey bees and, of course, horses participate. Please spread the word to all of your pet loving friends! Treats will be served for the creatures and owners. The year's offering will be donated for pet food at our local Harvest Food Bank.
Our Savior Episcopal Church is located off of Highway 121 on Church Street in Trenton.  Rain or shine!