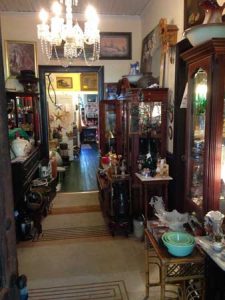 A beautiful October day, October 3, which meant blue skies and good weather (a light breeze and an invigorating temperature) helped to bring a good crowd to the Fall Antiques Festival that Beth Padgett and her crew, have been opening to the public for several years now.
The site is the rustic House Next Door that holds both elegance and "down home" charm, as seen in the photograph—a crystal chandelier lighting period furniture and possibly carnival glass, at the same time.  Stocked full of interesting pieces from the past, telling the story of our culture, is worth a journey through the unusual number of rooms for such a small house.  On the outside are many attractions, from a one-room school house to a man made of  clay pots, with a plant on top growing him hair.
Guests found crafts to purchase on the outside, in the lower garden of Beth Padgett's house.  Among the crafters were Neil Bartley who creates from wood, local and exotic and his sister Cindy Floyd (Mrs. Hayne) who was showing her specialty, carved gourds.
Such events help to fill the Town of Edgefield on the weekends and add much to our business atmosphere.