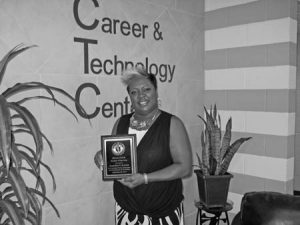 Strom Thurmond Career and Technology Center's (STCTC) Cosmetology teacher, Jackie Kennion was selected South Carolina's Cosmetology Teacher of the Year. "Getting
an award for teacher of the year really shocked me. Mere words cannot
express how it made me feel to receive such an honor," said Kennion. Kennion was recognized by the Association of Cosmetology Teachers in Vocational Education (ACTIVE). ACTIVE is the professional organization for Cosmetology Instructors in South Carolina. ACTIVE was established in 1978 with the main focus of providing professional development for instructors throughout the State of South Carolina.  Each year ACTIVE selects a Teacher of the Year and honors the recipient at its annual Teachers' Seminar.
The Committee Chairperson selects a panel of judges.  The panel of judges consists of career and technology education administrators. The following criteria are used to select the Teacher of the Year: professional memberships, outstanding professional contributions, work experience, educational training, letters of endorsement, and community activities or contributions.
"Jackie Kennion's students' passage rates on the South Carolina Cosmetology State Board exams are the top in the state. STCTC's students are very fortunate to have Mrs. Kennion on our staff," stated Northrop, STCTC Director. STCTC students who successfully complete the 1500 hour program requirement and pass the South Carolina State Cosmetology exams are licensed cosmetologist in the state. Students are required to purchase a materials kit in order to enroll in the program. Kennion added, "The cost of the course for STCTC students is a fraction of the cost as compared to them going to a private cosmetology school and my students can enter directly into an exciting and rewarding career."