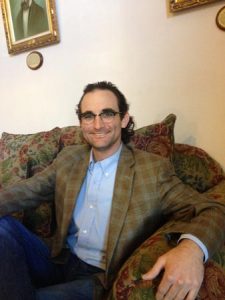 In a brief interview, offered to all candidates by this newspaper, Kevin Beck (Libertarian) gave reasons for running for Probate Judge in this county as well as what he would like to do if he should win in the November election. Kevin is an attorney practicing in Langley, South Carolina, and whose family resides in Trenton.
Kevin is known to many from his early schooling. He is a 2003 graduate of Wardlaw Academy with a 2007 degree from the College of Charleston where he studied political science, and communications with a special focus on American studies. (While there he had Dr. Jack Bass — biographer of Strom Thurmond — who noted that Kevin was his first student in his classes from Edgefield County).
He continued in law at the Charlotte School of Law. After passing the bar (2011) he has practiced in Langley, S.C., for two years. In this practice of law he says he has found much pleasure in helping people. He believes that the Office of Probate Judge will also grant him this chance to help people of varying walks of life and with varying issues of a probate nature.
In his practice so far he has done a "lot of criminal work and probate, small civil claims and landlord-tenant disputes." He says his work has set him up to know how to work with people in uncomfortable situations – not always ideal – and he feels that the Probate Judge's office has some of the same kinds of uneasy situations, particularly after a death in a family, that he feels prepared for. In his ad in this week's paper he calls himself a "Working Class Leader."
He has some ideas which he plans to enact if he wins. One is a Mental Health Court that he says is running successfully in three counties in S.C. It involves mental health and drug cases specifically and working toward treatment for these cases. He states that the success has been great according to statistic – "70% of the cases do not return to court." One can see more about this on his Web site – www.beckforprobate.com.
One does not speak with Kevin without noting his appearance which is mindful of other faces seen on TV or in the movies. He gets "you look like Bill Murray or Bubba Watson" from time to time. Also in noting a photo the Advertiser made of him, his comment was – "a little bit of [Groucho] Marx there" (and for those too young to know, he was addressing the heavy eye-brows). Certainly humor comes across as a Kevin Beck trait.