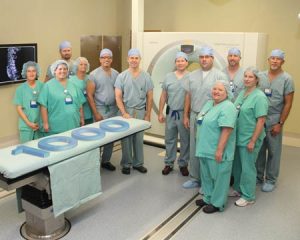 Greenwood, S.C. – The South Carolina Spine Center, home to the Southeast's first Brainsuite® iCT, announced today its 1000th patient's surgical procedure using this intra-operative technology installed in June 2010.
Self Regional Healthcare was the first health system in the Southeast and the fourth medical facility in the U.S. to offer this leading edge surgical navigation system. Self Regional has one of the busiest intra-operative rooms in the country with the highest volume of Brainsuite usage in the eastern United States, and is the first Brainsuite iCT single operating room to reach 1,000 cases.
The technology allows surgeons to view 3D CT images during surgery to assure placement of pedicle screws and tumor localization with pinpoint accuracy. The space age OR features a CT scanner and a "floating" carbon fiber table designed by Trumpf Medical that allows 360 degree imaging of the patient during surgery. Self Regional utilizes the specialized technology for its South Carolina Spine Center.
According to Dr. Lal, Brainsuite iCT is used on many patients who require lumbar fusion or brain surgery.
"Self Regional and Brainlab have partnered together to become an intra-operative technology leader," said Sean Clark, President, Brainlab Inc. "The unity and dedication between the neurosurgeons, hospital administration and other hospital staff has made the Spine Center at Self Regional a nationally recognized institution in advancing surgical technology and helping improve patient outcomes."
To reach the SC Spine Center, please call 877-513-SCSC (7272).