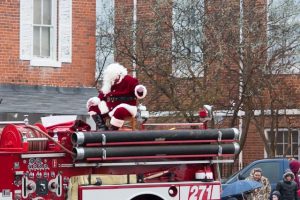 Bring the family and your chair to the Edgefield Town Square and enjoy Christmas music and performances beginning at 1 p.m. on Sunday, December 7.
Performers include First Baptist Youth Hand Bell Choir, Old Macedonia Male Choir, Timmermans Performing Arts, Tasha's Little Angels and Mr. Joe Bolden.
Entry forms can be obtained from Edgefield, Johnston and Trenton Town Halls, Edgefield County Chamber of Commerce and exploreedgefield.com.
There will be snow and bring your camera for pictures with Santa after the parade!
For more information you may call Calvin Henderson at 803-480-1255 or Edgefield Town Hall 803-637-4014.
Many thanks to our 2014 Parade Sponsors: The Town of Edgefield, Johnston Railroad Diner, NWTF, Titan Farms, SRP Federal Credit Union, Aiken Electric Co-OP, Pendarvis Chevrolet, Jim Satcher Motors, Mr. Rooter, Ridge Parts & Supply –NAPA, Herlong Ford/Chevrolet, Edgefield Mini Storage and Trenton.