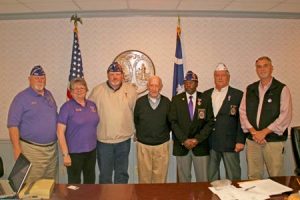 • Town Council Holds Monthly Meeting
As members of the Military Order of Purple Heart looked on Mayor Ken Durham delivered a town proclamation declaring Edgefield a Purple Heart Town. In attendance was Dr. Jim Hawk, an Edgefield Citizen and Purple Heart recipient, who served in Europe with the Third Army during World War II.
Council received and voted to accept the annual independent audit of the town's financial records provided by Highsmith and Highsmith. The representative of the auditing agency reported an unqualified/ clear opinion resulting from the audit.
Council approved a letter of request from the NWTF to place a banner on the trestle announcing their annual banquet to be held November 20th and unanimously approved the appointment of Mr. Merlin Penner to serve on the Planning and Zoning Commission as an at large member. Council further voted to host the 2015 Peachtree 23 Yard Sale June 5th and 6th and adopted the2015 schedule for council meetings and holidays. As a final item of business Council dissolved the Parking Committee.
Councilman Yarborough reported nine fire calls and 3 drills for the fire department in September and Councilman Ellis reported the town chipper up and running well.
Mayor Durham reminded everyone of the Veteran's Day Program at Strom Thurmond next Tuesday, the Christmas Tree Lighting on the 28th of November and the Christmas Parade on December 7th. There being no further business Council adjourned.