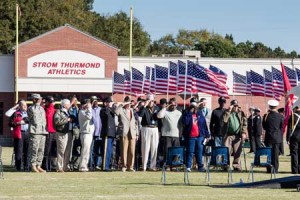 The date for Veterans Day, November 11, harkens back to World War I when the peace treaties were signed on the 11th hour of the 11th day of the 11the month. At the ceremony Tuesday morning, the Presentation of Colors, Pledge of Allegiance, the National Anthem with the help of the STHS Band and Mrs. Jane Jenkins Herlong gave expression to the patriotism felt throughout the program. Others on the program included Bennie Culbreath of VFW Post #6932 who introduced the Voice of Democracy State essay champion, Antonia Adams of Edgefield. Malcombe O'Neal of Johnston presented a plaque to the 122nd Engineer Battalion of the National Guard whose return home from Afghanistan this year was welcomed with great fanfair.
Guest speaker on Tuesday was Fighter Pilot Colonel Jet Jernigan, USAF (R). Alan Perano of the Edgefield County Veterans Affairs Office spoke to the group, followed by Mrs. Herlong who gave closing remarks.
Chaplain Preston Creech gave the Benediction after which the Colors were retired by the STHS NJROTC Unit.