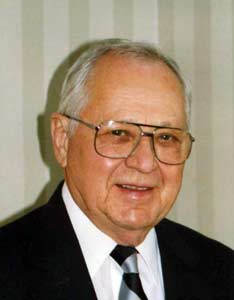 MANSFIELD, OH – William Frederick "Bill" Turner, Sr. passed away on Friday, November 21, 2014 at Kindred Hospital, Mansfield, OH.  He was 91.
He was born on March 25, 1923 in Edgefield County, South Carolina to parents Frederick Stokes and Rubye M. (Ransom) Turner.  On February 10, 1943, he joined the U.S. Marine Corps.  He received training as a communications specialist and served with the 5th Amphibious Division in the South Pacific from 1943-1946 when he was honorably discharged.  He saw action at the Marshall Islands; participated in the seizure and occupation of Iwo Jima; and in the occupation of Japan.  Bill was proud to be a member of the "greatest generation".  He said, "war was hell, but I would gladly do it again."  Bill was a member of the local VFW Post 3494.
He married Angela J. Walker of Coshocton, OH on July 3, 1947.  Bill was a devoted husband to his "Mama Jo" for 67 years.  He worked at Westinghouse for over 33 years retiring in 1981.  Bill enjoyed working in his yard and flower beds and watching the birds.  But his children, grandchildren, and great grandchildren brought him the greatest joy.
He is survived by his wife, Angela; his daughter and son-in-law, Dianne and Jim Kirkman of Annandale, VA; his son, Bill Jr. of Bellville, OH; seven grandchildren, Eric and Holly (Gore) Jenkins of Chester, VA, Aaron and Marian (Gore) Seliquini of Lawrenceville, NJ, Carrie Gore of Salisbury, MD, Jeff and Emily (Turner) Sell of Findley, OH, Jesse R. Turner of Bellville, OH, Len and Julie (Turner) Swihart of San Diego, CA and Chris and Corrie (Turner) Slight of Durham, CT; two step grandchildren, John and Paige Kirkman of Lafayette, CO and Nathan and Katherine (Kirkman) Hackett of Lovettsville, VA; 17 great grandchildren; six step great grandchildren; brothers, John Harold Turner of Greenwood, SC, Coy E. and Virginia Turner of Dayton, OH, and Edgar Ransom and Judy Turner of Greenwood, SC; and numerous nieces and nephews.
Bill was preceded in death by his parents; daughter-in-law, Agnes Bambach Turner of Bellville; brother, Randolph; and sisters, Lois, Dora, and Betty.
Funeral services will be held Friday, November 28, 2014 at 2:00 p.m. at the Ontario Home of Wappner Funeral Directors, 100 S. Lexington-Springmill Rd., Ontario.  Friends may call prior to the service from 1:00-2:00 p.m. at the funeral home.  Burial will follow in Oak Grove Memorial Park.  Memorial contributions may be made to St. Judes Children's Research Hospital.
Online guest registry at www.wappner.com