Opinion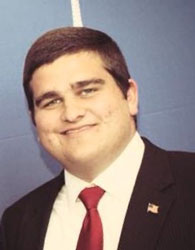 – By G. Miller Thompson –
The title "Chief Executive Officer" carries with it a sense of prominence and perhaps intimidation. These individuals often live in large houses in prestigious neighborhoods and they enjoy the finer things of life. America's CEOs are an integral part of society. Without businesses and corporations to employ Americans, our economy would be nonexistent. Despite the lavish lifestyle many CEOs experience, a valuable lesson can be learned from them.
Undercover Boss is one of my favorite shows on television. If you have never seen it, it comes on Sunday nights at 8 on CBS. This show follows a CEO from various corporations, large and small, and chronicles their experiences working alongside their employees. Going undercover within their own corporation gives the CEO unique insight into the things that are working well and the things that need improvement.
For example, this week's episode featured John Hartmann, CEO of True Value hardware stores. Hartmann worked with a sales associate, cashier, front end manager, and stocking associate. His experiences in these four departments enabled him to take corporate action to change things in his company to make it function more efficiently. One specific change was to update True Value's check out system that had a history of crashing after a "rush" in stores.
This article is not a plug for the show, though I would certainly recommend watching if you are available next Sunday evening. There is a much more important point I seek to make. At the end of every episode, the CEO being featured meets with the employees for which he worked and reveals his true identity. The reaction of the employees to this revelation is always fun to watch. After exposing himself, the CEO recounts his time with each employee and tries to gain a deeper understanding of the various circumstances affecting the personal lives of the employees.
Think back to the cashier I mentioned from this week's episode. She was a 21 year old struggling to make ends meet. She had already accumulated more than $50,000 in student loan debt and was no longer able to afford living on her own. Hartmann appreciated the work this employee had done for the company. In return for her dedication and stellar customer service, the CEO paid off the cashier's loan debt, gave her $5,000 to help with living expenses, and $10,000 to help complete her education. The other three employees Hartmann worked with received similar gifts, tailored to their individual needs, and there are many other comparable stories from other episodes.
The story I have told here is to some extent an extreme. Rather than a story of personal generosity, I have told one of the generosity of a corporation to its employees. With every episode I watch, I am amazed at the lengths CEOs will go in order to accommodate the needs of their valued employees. The Christmas season is upon us and I could not help but draw a parallel between True Value and our personal lives.
As these last few days before Christmas arrive, take a moment to do something for someone else. A $10,000 gift to a college fund is not necessary (unless, of course, you feel inclined to make such an offer), but a simple visit with someone is worth more than all the money in the world. This is a season of giving and loving. Join me in spending a little less time thinking about ourselves, and a little more time brightening the days of those around us.
 —
The views and opinions expressed here are those of the author and do not necessarily reflect those of The Edgefield Advertiser.
Have something to say? Please leave your comments below.