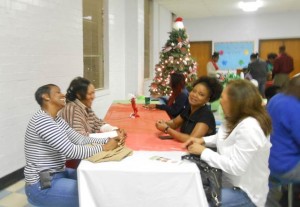 JOHNSTON, S.C., December 15, 2014 – "Holidays such as Christmas hit financially challenged families the hardest," says Marcella Edwards, CEO of Edgefield County Youth Empowerment Center (ECYEC). "When you are unable to feed and clothe your family, putting toys under the Christmas tree isn't a priority. Over the past 3 years, we have been attempting to easy the stress of financially challenged families during the Christmas Holidays with providing toys and clothes for the children. It is not about how many people can serve us, but it's about how many people we can serve." This year ECYEC is able to serve more due to the help of NFL Players' mothers, who brought Christmas to children in the Center. This was Monday, December 15, in Johnston.
Three Professional Football League Players' mothers joined forces at the Center in Johnston to bring joy and excitement to local families: Angela Watson and Tracey Hamilton, whose sons Dakoda and Jakar play with the Dallas Cowboys along with Delores Hazel, whose son Matt plays with the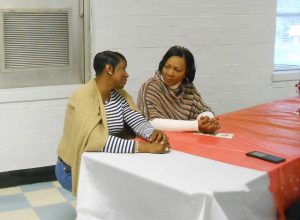 Miami Dolphins. They brought Christmas gifts for the children during the Community Christmas Gathering. "I think the NFL Players' mothers were more excited than the children; they didn't want the children to leave the gathering," stated Edwards. She noted that this is an organization that believes in "Teamwork." It maximizes the strength of the organization — having the support and forming a partnership with NFL Mothers gave the Center an opportunity to broaden their services in the community.
"We are appreciative of the NFL mothers and their contributions to the families we serve. It is all about the spirit of the season, which is about giving rather than about consuming," said Edwards.
SUBMITTED