EDGEFIELD, S.C., December 22, 2014 – The National Wild Turkey Federation (NWTF) recently hosted the its third successful mentored youth deer hunt through the South Carolina Department of Natural Resources (SCDNR) Take One Make One (TOMO) program. Local youth, who would not otherwise get the opportunity to hunt, were given exclusive access to pristine food plots on the NWTF Hunting Heritage Center property.
"The SCDNR is a wonderful partner for our shared goal of creating hunters," said George Thornton, NWTF CEO. "The mentored hunts were extremely successful because all youth returned home with big smiles on their faces regardless of filling their tags. That is what it is all about."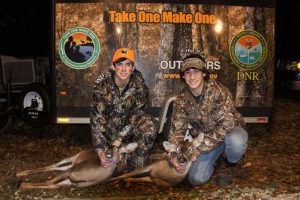 Over the course of the three deer hunts, TOMO mentors and NWTF staff hosted more than 15 hunters. Nearly 50 percent of the hunters harvested a deer. Beyond the opportunity to hunt, youth learn about conservation, the wildlife they pursue and what it means to be a responsible hunter.
"Anytime you introduce sportsmanship and hunting to a young person who hasn't yet had the opportunity to enjoy the outdoors, you are making a difference in securing our hunting heritage," said Sgt. Eddie Monts, SCDNR wildlife officer and TOMO coordinator. "The NWTF has excellent facilities and a property that is large enough to host such events. We look forward to continuing this great relationship."
The most recent hunt was the final mentored deer hunt of the year, but several small game hunts are scheduled. SCNDR also is partnering with the NWTF to host turkey hunts in the spring.
About Save the Habitat. Save the Hunt.
The NWTF Save the Habitat. Save the Hunt. initiative is a charge that mobilizes science, fundraising and devoted volunteers to give the NWTF more energy and purpose than ever. Through this national initiative, NWTF has committed to raising $1.2 billion to conserve or enhance more than 4 million acres of essential upland wildlife habitat, create at least 1.5 million hunters and open access to 500,000 acres for hunting, shooting and outdoor enjoyment. Without hunters, there will be no wildlife or habitat. The NWTF is determined to Save the Habitat. Save the Hunt.
To learn more about the NWTF Save the Habitat. Save the Hunt. initiative, visit www.nwtf.org.
About Take One Make One
The Take One Make One program is designed to teach safe hunting practices to students who have no previous outdoor hunting experience. This program will increase their awareness and the value of wildlife and the natural environment by encouraging experienced adults to "pass on" traditional outdoor skills.
To learn more about SCDNR's TOMO program, visit http://www.dnr.sc.gov/education/tomo/.