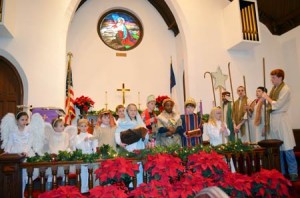 The Tour of Churches is scheduled for this weekend, December 14, at 3:00 p.m., when the Village churches join to tell the Christmas story in tableaux of angels, shepherds, Mary and Joseph and other well-known characters from the Bible.
It will start at the Catholic Church at 3:00, and for those attending expect to enjoy music from choirs and readings from church pastors as the attendees move from St. Mary's to the Baptist, Episcopal and Methodist churches, in that order.
A reception at Magnolia Dale will conclude this event as the Edgefield County Historical Society hosts the attendees and participants with party food and holiday accents.
For those who do not wish to walk the distance, there will be a bus available.