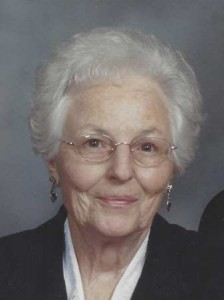 AIKEN, S.C. – Funeral services for Audrey Lee Quarles, 86, of Aiken, will be held at 3 p.m. Sunday, January 4, 2015 at Memorial Baptist Church, under the care of George Funeral Homes.  Officiating will be Rev. Jimmy Sanders.  Burial will follow in Aiken Memorial Gardens.  The family will receive friends from 2-3 p.m. prior to the service at the church.  Memorials may be made to the Lottie Moon Christmas Offering.
Mrs. Quarles, widow of Bobby Quarles, passed away on Friday, January 02, 2015.  Born in Greenwood, she was a daughter of the late Harvey and Martha Buzhardt McDowell.  She was a lifetime area resident and a member of Memorial Baptist Church.  Mrs. Quarles loved spending time with her family and enjoyed cooking, canning and pickling.  She was the Church cook for many years.  Mrs. Quarles was preceded in death by a sister, Elsie Quarles, a grandson, Wes Jeffcoat and a son-in-law, Larry Sanders.
Survivors include: Candais Franklin (Blake) of Charleston, Sharon Ready (Les) of Aiken, Pam Sanders of Spartanburg and Terri Sullivan (Steve) of Aiken; 10 grandchildren and 7 great-grandchildren.
The family would like to express their sincere thanks to her caregivers, Katrina, Sharon, Vanessa and Trinity Hospice.
Expressions of sympathy for the Quarles family may be left online at www.georgefuneralhomes.com.