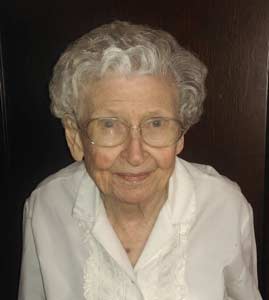 ELMHURST, N.Y. – Native of Johnston, S.C., Grace T. Forsythe (nee Grace Elaine Toney), daughter of Henry Spann Toney and Arbrette Watson Toney, was born in 1915 and died January 8, 2015 in the hospital in Elmhurst, NY after suffering a broken hip followed by a stroke. Grace was preceded in death by two sisters and a brother, Mary Toney, Harriet Toney Wise and Henry Spann Toney, Jr., all of Edgefield County, SC.
In 1945 Grace married George A. Forsythe of New York City (died June 1991) after his discharge from the US Army. She attended Coker College for 2 years and then graduated from University of SC. Grace was mother to two sons, George M. and Robert D., worked part-time as a secretary and later full-time as an elementary grade teacher in three private schools.
Grace was a member of Johnston Baptist Church while in SC and Madison Avenue Presbyterian Church and Newtown Presbyterian Church in NY. She was an avid reader and very much interested in conservative politics. Although she grew up on a farm, she preferred city life when she moved north. She kept very active until the past year, participating in physical fitness classes, which no doubt contributed to her longevity.
Mrs. Forsythe is survived by 2 sons and their spouses, Mary A. Forsythe and Mary Louise Forsythe, and two grandchildren, Kathryn Forsythe (who lived with her and lovingly cared for her for the last 9 years of her life) and Elizabeth Forsythe Block (Jonathan).