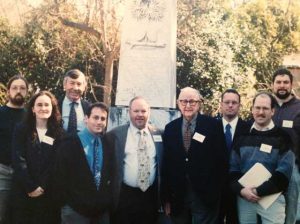 Event of 1999 Returns to Edgefield February 19-21
January 21, 2015 – The Edgefield County Historical Society is pleased to announce that the Annual Meeting of the Southern Intellectual History Circle ("SIHC") will be held in Edgefield on February 19-21, 2015. This interdisciplinary group of scholars, mostly historians but also students of literature and other humanities fields, includes some of the foremost authorities on Southern thought and culture from universities and colleges around the United States and abroad. It is expected that approximately fifty scholars will attend the three-day event. The informal group gathers annually to hear and discuss presentations based on fresh research by its members on a broad range of topics related to the intellectual life of the South over the four centuries of its history.
One of the most active organizations of its kind in the state, the Edgefield County Historical Society hosted the SIHC's meeting in 1999, and the SIHC accepted the Society's invitation to return to Edgefield for its 2015 meeting. This year the South Carolina Historical Society, the University South Caroliniana Society and the University of South Carolina Aiken will be co-sponsors of the event. At the 1999 meeting, participants included C. Vann Woodward, one of the most renowned Southern historians of all time, Sheldon Hackney, then President of the University of Pennsylvania and Drew Gilpin Faust, now President of Harvard University. The 1999 meeting was a resounding success, with many participants saying that their experience in Edgefield was the best that they had known in all of the years of the organization's history.
The Society will provide session and meal venues unique to Edgefield, including historic churches, homes, and the Court House. Presentations will be open to area residents without charge. An unusual feature of the SIHC meetings is the separate blocks of time reserved for discussion of the presentations, led by other qualified scholars. The conference will open on Thursday evening with a keynote address by Susan Donaldson, National Endowment of the Humanities Professor of English at the College of William and Mary. At the Friday morning session, scholars who have read the keynote address in advance will comment upon it. Other Friday sessions will be of varying lengths in which up to four scholars present their research formally with one or more respondents, having read the papers in advance, commenting upon them. At the Saturday sessions, all participants are invited to join in discussing the papers presented earlier.
The Edgefield County Historical Society believes that this event can have a very favorable impact on Edgefield County. The dozens of eminent scholars who will be here for this event will be writing many papers and books in the coming years. Their positive experience while they are here will hopefully result in more favorable treatment for our county in their writings.