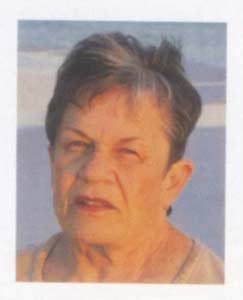 Jessica E. Harris is known throughout the County for her many talents. It was probably music that was her main talent in her younger years; her mother was a well-known piano teacher and so Jessica learned from her. For years she played for her church and carried on the playing of the carillons (her mother Janie Eggers had played them for many years) at the Methodist Church in Edgefield, spreading those bell-line musical notes found in tunes from old familiar hymns.
Jessica's father was Jesse Eggers who was a grocer here at one time. He rode a motorcycle before it was so popular as it is now. He made beautiful musical instruments from wood in his latter days.
After retirement from her chosen work as legal secretary, Jessica developed the talent of photography, and won awards for her photographs. Now her friends and acquaintances can enjoy a talent that is ever growing in her – poetry.
Recently, in the Winter 2015 edition of Big Sky Journal – a magazine published five times a year in Bozeman, Montana – she was given the whole page called "Back 40" where a poem of hers was published and printed against a backdrop of a beautiful sky and river, photo by Jason Savage. It is a picture of the Missouri River at the point where the Gallatin, Jefferson and Madison Rivers come together to form the Missouri. And one wonders, why there?
Jessica's late husband, Bubber Harris, is important in this story. They together went to Montana in 2007 and they enjoyed it thoroughly. Bubber died of cancer in the next year, and in 2009, after he had died, she went back to Montana for three weeks by herself and left the last of his ashes in the river right where they had stood on the shallow bank, in 2007.
Jessica says she got the names of some magazines published in Montana from the Internet and ordered copies, and it was Big Sky that attracted her and to whom she sent her poem. A very quiet and unassuming personality, it was not Jessica who informed the newspaper of this, but rather one of her friends.
The reader has so much to look forward to in reading this poem.
Big Sky Benediction
Driving past the manicured cemetery on the highway,
so still and crowded with sameness,
I know where your last handful
of ashes belongs.
Returning to Montana brings bittersweet memories,
and my heart thumps harder as I glimpse the
headwaters of the Missouri.
Sitting on the flat rock nearest the water, I scrabble
from my Ziploc the meager dusty bits of your
very being and release you into the
gently flowing river.
Our souls might never meet or comprehend this mystery,
but knowing your pure joy in receiving this final
taste of freedom gives me peace and benediction.
Jessica Harris