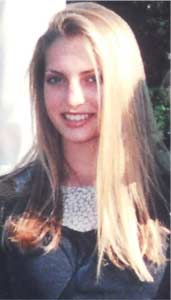 NEW CANAAN, CT –Lindsey Anne Harper Reiniger joined her Heavenly father on Monday, January 5, 2015. She was born on July 9, 1989 to Barbara and Haigh Reiniger in Boston, MA, where she resided until 1995, when she and her mother moved to New Canaan, CT.
Lindsey attended the New Canaan schools through her sophomore year and then transferred to the Academic Magnet High School in Charleston, SC. She rode and jumped horses in Aiken South Carolina with her father as a girl. During her freshman year, Lindsey placed third highest in a CT statewide French writing and elocution. Lindsey spent the summer of 2004 in San Francisco, California with Elizabeth and Hearst Welborn family members.
Our Lindsey Anne also attended the Summer Choate Rosemary Hall Art Program at the Paul Mellon Art's Center in Connecticut ..for water color and oil painting.
Lindsey received a scholarship award from the World Affairs Forum, Stamford to study in France the next summer.
After summer in Provence, France Lindsey returned to Charleston to live with her father and attend the Academic Magnet High School, and was awarded the SC Low Country Award for French Elocution.
Most importantly, Lindsey was a gifted artist and musician, who was happiest while painting, drawing or picking and strumming her electric guitar.
Her high school class named her "Most Artistic Student."  Her paintings were exhibited at a restaurant on King Street in Charleston while still a Senior in high school. Lindsey Anne had been accepted at College of Charleston and at Pratt Institute in New York City.
Lindsey also lived in a private studio at the Magnolia Dale historic house in Edgefield, South Carolina while studying Art, Religion, Music and Yoga with her father.   Lindsey was had a proficient practice and was and licensed Yoga instructor…..
At the time of her passing, Lindsey was pursuing a career to help others through nursing by attending Norwalk Community College. While studying, she worked part-time at Scotts Corner Market in Pound Ridge and pursued her proficiency in electric guitar at home.
Above all, she was a very loving, caring and sensitive human being who loved caring for animals, and plants, and nature like a Franciscan nun and never said a bad word about others. Her love, beauty, kind heart, and sensitivity will live on through all the people she touched over the course of her life. We all loved her very much…
Survivors include her mother, Barbara Minor Reiniger, of New Canaan and her father, Haigh Scott Reiniger, of Edgefield, SC. Lindsey is also survived by her maternal grandfather, Lance Minor of New Canaan, his wife Margie, and several aunts, uncles and cousins. She was pre-deceased by her maternal grandmother, Barbara Minor, and paternal grandparents, Anne and Haigh Mc D. Reiniger.
A memorial service will be held on January 17, 2015 at 10:00 AM at the Stanwich Congregational Church at 202 Taconic Rd., Greenwich, CT. Flowers or contributions may be sent to the Stanwich Congregational Church in Greenwich, CT.
For on-line condolences and directions, visit www.hoytfuneralhome.com.