Opinion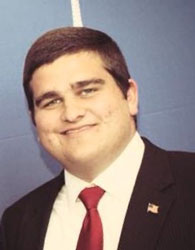 – By G. Miller Thompson –
Sixteen months ago, just weeks before my nineteenth birthday, I emailed the editor of the Edgefield Advertiser and asked if she would be interested in publishing some thoughts from a young conservative. I had a lot to say and wanted a platform from which to say it. The Advertiser offered me such a platform and I will be forever grateful. For the last sixteen months, it has been an honor and a privilege to write for the "oldest newspaper in South Carolina" that just so happens to be in my beloved hometown.
When I began this journey, I had no idea what lie ahead but I was excited to find out. This endeavor has taught me valuable lessons and given me a new respect for the great country we call home. I am proud to live in a country, and in a county, that is willing to give a teenager space in a newspaper to spout off his opinions.
This experience has instilled in me the idea that the public square is a powerful place. Perhaps the greatest thing about our country is that we can disagree without a war. Every four years, our Chief Executive is inaugurated. The Inauguration shines as a beacon to the world that the peaceful transfer of power is indeed possible despite ideological differences. The American public square is a place we ought to visit frequently. This is the only way to sustain our vibrant society.
Over the course of these months, I have had conversations with folks who both agree and disagree with my writing. While it is easy to agree, disagreement is often difficult. The conversations I have had and comments I have read from those who disagree are the ones I find most inspiring. Despite our differences in opinion, we were able to converse with one another in a responsible and respectful manner.
As best selling author Bryant McGill once said, "One of the most sincere forms of respect is actually listening to what another has to say." The most valuable lesson I have learned from writing this column is that my voice is no more important than the voices of everyone else around me. Listening to these voices and understanding their perspectives is crucial to shaping and defending my own views.
Your voice is important, make it heard. Bear in mind, however, that the voice of your neighbor is equally important. Silencing our brothers and sisters threatens our society. The day will not come when we all will agree on solutions to every problem facing our nation and our families. Agreement is not necessary, but respect for our fellow man ought to be the norm.
Thank you all for allowing me to share my thoughts with you for sixteen months. I am blessed to have had this opportunity and hope that something I have said had some value to you. The journey is only beginning and it is my desire that a chorus of voices will sound. Perhaps they will sound in harmony, but they likely will sing different songs. Find your tune and sing it proud.
May God bless you and your family, and may God bless our Edgefield and our United States of America.
—
The views and opinions expressed here are those of the author and do not necessarily reflect those of The Edgefield Advertiser.
Have something to say? Please leave your comments below.