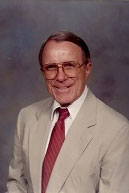 NORTH AUGUSTA, S.C. – Travis Hammond Miller, 88, husband of 65 years of Vera Dorn Miller, passed away January 13, 2015, joining his Savior and Lord, Jesus Christ, in Heaven. His funeral service will be Friday, January 16th, 11:00 a.rn., at Republican Baptist Church, Edgefield County, South Carolina. This service will be officiated by Rev. Lance Thomas, Dr. William L Owens, and Rev. Jim Bray. The interment at the church cemetery will be with military honors. Following the service, the family will receive visitors.
Travis, a native of Edgefield County and 1942 graduate of Edgefield High School, served in the U.S. Navy as a Gunner's Mate 3/c on LST 772. In the Pacific Theatre of WWII, he earned two battle-stars for combat in Okinawa and the Philippines. He was a member of the American Legion. For thirty-nine years, Travis was employed with the US Postal Service retiring as Superintendent of Postal Operations at the North Augusta Post Office. Travis was a member of the Yellow Jacket Club and also helped in coaching and serving on the board of Dixie Youth and Pony League baseball. For many years, he was a member of First Baptist Church of North Augusta and later moved his membership to Republican Baptist Church. There he served as a deacon, member of the Building Committee, and various other committees. His interests included golf, huntinq, gardening, and forestry management. Travis served on The Edgefield County and South Carolina State Forestry Boards.
Survivors include wife, Vera; daughters,Trudi M. Belcher(Tommy-deceased); Kathy M. Plowden(Tom); son, Gary D. Miller(Gloria), all of Edgefield County; nine grandchildren, Briggs L. Belcher; Travis C. Plowden (Emily); Stephenie P. Bestawros(Michael); Anna P. Weatherford(Jon Wade); Emma P. Reeves(Chris); Jessie E. Plowden; Callie R. Plowden; Lauren P. Morgan(Russ); Loriann P. Hudson(Craig); four great grandchildren, Elijah Weatherford; Lucas Morgan; Jude Bestawros; Landon Hudson. Other survivors include: brother, Harold Miller, of Columbia, S.C.; sister, Gertrude M. Reel of Edgefield, S.C. He was preceded in death by his parents, George L. and Anna H. Miller and son, Travis H. Miller, Jr.
Pallbearers will be his nephews. Honorary pallbearers will be the past and present deacons of Republican Baptist Church.
Memorials may be made to the Republican Baptist Church Building Fund, 610 Republican Road, Clarks Hill, SC 29821.
The family would like to express their deepest appreciation to Trinity Home Health and Hospice Services of Aiken.
Please sign the register book at www.edgefieldmercantilefh.com.