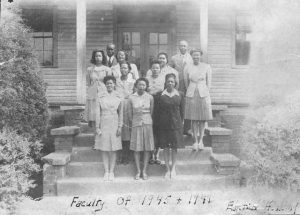 William Erskine Parker, July 26, 1883-October 6, 1963, a dedicated educator, will be given a commemorative salute and a presentation of a portrait in ceremonies at W. E. Parker Elementary School, Tuesday, February 17, at 6:00 p.m. Edgefield County School District, Greg W. Anderson, Superintendent, will be in charge.
The program includes several officials from the Edgefield County School Board as well as the student body.
He is noted to have been "ahead of his time" in many ways. One of his attributes was the ability to take a divided faculty, when he first came to Edgefield, and to bring them together, and the enrollment of the school reached an all-time high of 226 students.
He was deeply interested in early childhood development and was a strong advocate for the three basics of education – reading, writing and arithmetic. He actually helped students with their math, after school, in their own homes.
Another legacy of his was the importance to teach students how to think instead of what to think – with that skill the student "can solve problems for a lifetime," were his words.
Parker was born in Laurens County, S.C., and at age four lost his mother in death. His father found help through relatives in raising the five children left behind. Professor Parker went to live with an aunt until he was 16. He ran away at this age and went to live with his father, who was raising his two sisters. There was little money for his schooling, so he worked until age 20, when his father offered him $50 which he put toward his education – at Brewer Normal School in Greenwood and S.C. State in Orangeburg.
That education eventually brought him to Edgefield, in 1914, to become principal of Macedonia Grade School. He rendered forty-four years of service to the schools of Edgefield.
The public is invited to join school officials and former students in this program, which also salutes "Black History Month."