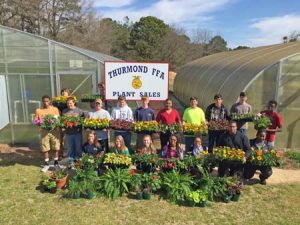 JOHNSTON, S.C., March 23, 2015 – The Annual FFA Plant Sale at STCTC is going on now! FFA students will be available to help you select spring plants now during school hours or Saturday – March 28th from 8AM-2PM (at the Greenhouses behind the ST football field-house).
The plants look beautiful and people are welcome to come anytime to make their purchases!
Here are a few things you can expect to see:
Mixed Hanging Baskets & pots
Bedding Plants
Ferns (Boston, Compact Boston, Sword, Macho, & Asparagus)
Geraniums
Marigolds
Periwinkle (Vinca)
Gerbera Daisies
Begonias
Ornamental Grasses
New Guinea
Impatient
Pentas
Gazenias
Tiger Eyes
Sweet Potato Vine
Wondering Jew
Lantana
Impatiens
Cockscomb
Petunias
Coleus
Million Bells
Veggies and more!
For more info: call 803.275.1767 ext.526 or email:
dssteele@edgefield.k12.sc.us