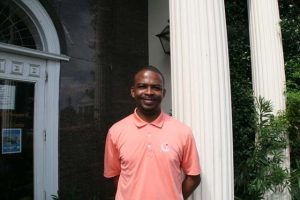 Mr. Reggie Simpkins, Strom Thurmond High School graduate and son of Jackie Simpkins and Walter Simpkins of Edgefield County has been selected to fill the position of Director of the Student Athletic Services Department at Georgia Southern University. Reggie will oversee all academic services pertaining to the Eagle athletic programs for 400 student athletes.
Prior to his arrival at Georgia Southern he served as Assistant Athletic Director at Louisiana Tech University.
Reggie received a Bachelor of Science Degree in Criminal Justice from South Carolina State University and a Master of Arts in counseling from Webster University. Recently he earned a Masters of Public Administration from Clemson University.
Mr. Simpkins is married to the former Crystal Sullivan and they have two daughters Isley(7) and Ilah(3).