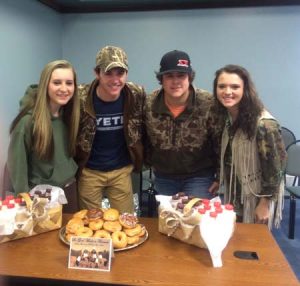 The FFA students at Strom Thurmond Career & Technology Center recently celebrated National FFA Week. National FFA Week is an opportunity for FFA members, alumni and sponsors to advocate for agricultural education and FFA. It's a time to share with local, state and national audiences what FFA is and the impact it has on members every day.
"I really enjoyed helping raise awareness of FFA to our school and community," says Leigh Northrop, Senior at Strom Thurmond and Thurmond FFA President. "I served as co-chair for the FFA week committee so I took a special interest in this activity for our chapter."
To allow all students to feel a part, the officer team designed a week full of fun activities, including spirit week. Each day required a different costume/attire theme: Monday – Plaid/Flannel Day, Tuesday – Tuck Your Pants in Your Boots Day, Wednesday – FFA Colors (Blue & Gold) Day, Thursday – Camo Day and Friday – Favorite FFA T-shirt Day. Also, all FFA members were invited to a Chapter Luncheon on Monday of Taco Soup and the trimmings. Tuesday night, two state officers visited Strom Thurmond for FFA Night which included food, fun and fellowship. On Wednesday, the FFA Officers traveled to Columbia for state Legislative Day and on Friday, Senior FFA members were fed breakfast before school. On Friday night, three FFA young men, Hunter Herrin, Austin Hall and Lucky Bailey traveled to Pendleton High School to compete in the Mr. FFA Scholarship Competition. A few other events to commemorate the week were: teacher treat bags distributed to all teachers at Strom Thurmond and FFA suckers to all ST students. Lastly, the FFA officers delivered fresh doughnuts and Hickory Hill Milk to the Edgefield County School District Offices. "Hickory Hill donated the milk to support our FFA Week celebration so we really appreciate them doing that. The district seemed to really enjoy the gesture and having local milk was a nice touch," said Dr. Steele, FFA Advisor.
Each year, FFA chapters around the country celebrate National FFA Week. The week-long tradition began in 1947 when the National FFA Board of Directors designated the week of George Washington's birthday as National FFA Week in recognition of his legacy as an agriculturist and farmer. The first National FFA Week was held in 1948. Today, FFA Week always runs Saturday to Saturday and encompasses Feb. 22, Washington's birthday.
For more information regarding the agriculture program at the Strom Thurmond Career & Technology Center, contact Darla Steele or Jeremy Brooks at the career center, (803) 275-1767 or visit the agriculture program website at www.stromthurmondffa.com.