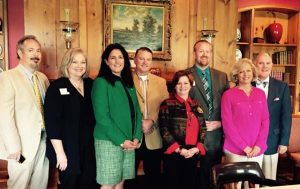 Edgefield County Included Next Year
Edgefield Advertiser attended the Women in Philanthropy annual luncheon in Augusta on Friday, March 27, as guest of Jan Burch (media chairman) and was on hand to hear that, though this group covers the CSRA, this coming year will be the first time this county will be included for possible grants. This was good news for all, for this is a group that specializes in helping women and children, and they do it with great compassion.
It was in 1978 that this writer heard Michael Macoby speak to a group of school girls and women about the work world that women were moving into, full force. (At that time about 50% of women were working.) His book Gamesman was on the stands and gave the readers of the time a view of the work world. His many new books have followed with studies (psychological in approach) about the working world and an analysis of the kind of leadership that is there. At this particular meeting he said one thing that stayed with the writer: that women were introducing something new and wonderful into the work place – compassion.
How one might interpret the result of compassion being seen, now, in the work world, would be according to each person's experience. However, there is no mistaking the compassion that is seen in the flow of dollars given to children and women in need by the WIP. The groups receiving funding were working directly with abused children and women, with agencies that were specializing in education and literacy, and to partnerships that had the infant in mind, all vulnerable and in need. (Lydia House was also named, and Advertiser readers know well their needs as our Mount Vintage writer includes her volunteer work there several times a year.)
These women members commit $1000 a year to the cause of women and children; they do not have monthly meetings, but they no doubt have a grand luncheon for presenting the grantees to the group. This is their one meeting, other than those meetings of the committees that make the grants and plan the functions. This year they gave away over $130,000 to the cause. The grants were from $30,000 to $1500.00
Impressive and moving were the stories of the recipients. Edgefield County has a chance to compete next year. For any organization wishing to try for a grant, that group may contact Jan Hodges Burch (formerly from Trenton) for information 706-829-4100) or (706-724-1314).
Representatives from the following non-profits were awarded grants totaling $132,800:
$25,000 – Child Enrichment, Inc., Therapeutic Recovery and Advocacy Services for Child Abuse Victims
$20,000 – Christ Community Health Services, Diagnostic Testing and Specialist Referrals
$20,000 – Ronald McDonald House Augusta, Temporary housing for families of critically ill or injured children
$15,000 – Child Advocacy Center of Aiken Co., Services Grant
$15,000 – HACK Augusta, Young Maker
$10,000 – Storyland Theater, Inc., 2015 Season of Musicals
$10,000 – Family Connection of Columbia Co., Tee It Up 4 Kids
$10,000 – USC Aiken, From Darkness Into Light
$ 7,800 – Family YMCA of Greater Augusta, Camp Puzzle Palooza