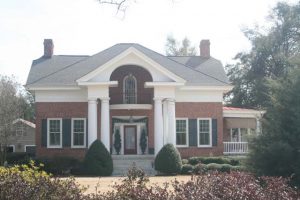 This beautiful, old home built in 1911 by Amelia Hankinson in Jackson, SC, is just one of 15 historic places in Beech Island and Jackson, SC, on the Beech Island Historical Society's 9th Annual Historic Beech Island Tour to be held Saturday, April 25, from 10 a.m.-5 p.m. Featuring several homes and a church that were moved out of the Savannah River Plant in the early 1950s, this year's tour is a tribute to those towns erased by the building of SRP. Two structures from Ellenton, SC, that were moved to the Town of Jackson are the former home of longtime Ellenton, SC, physician, Dr. Paul Culbreath and the First Christian Church of Jackson. A house that was moved from Dunbarton to Beech Island and one modern home in Beech Island also will be on the tour.
The tour also will include: All Saints Episcopal Church, First Baptist Church of Beech Island, Redcliffe Plantation State Historic Site, Hammond Cemetery, the Beech Island Historical Society History and Visitors Center and Agricultural Museum, Silver Bluff Missionary Baptist Church and schoolhouse, a 1700s Swiss settlers' farm and home site, the historic Zubly Cemetery, and the Silver Bluff Audubon Center and Sanctuary and upper Kathwood mill pond clubhouse.
From 11 a.m.- 2 p.m., the society will serve an old fashion barbecue lunch at the Visitors Center. For the cost of tour tickets and barbecue lunch, ticket outlets, and more information call President Jackie Bartley at 803-827-0184 or visit our website, beechislandhistory.org.