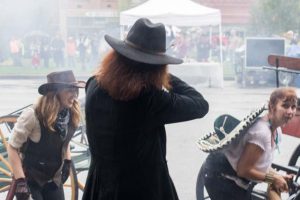 April, 18, 2015 – A "Murder and Mayhem" Tour was given on Saturday by Bushwhackin' Bea (Tonya Guy). It is claimed that blood has been shed on every square inch of the Edgefield Courthouse Square and the stories told reflected some of this violent history. Nineteen people were on hand to walk around the square and hear such tales as Becky Cotton (who murdered her husband and was killed by her brother on the courthouse steps), Ned Findley (who murdered his wife and was hung twice for the offence), G. D. Tillman (who shot down Henry Christian over a game of faro), the Dueling Cannons of 1858, the bizarre murders of Walter Toland and William D. Thurmond, and the Booth-Toney shootout (that left three men dead and four wounded). Please call Tonya at 803-637-4010 for information about future scheduled tours.
The Edgefield Bluegrass Festival, sponsored by The Carolina Moon Distillery, brought a large number of visitors to Town on Saturday and the "Wild West" style shootout was a big hit with the crowd. The Turkey Creek Outlaws, an all female gang, attempted to rob the Carolina Moon Distillery of money and moonshine. The Marshall and his Deputies quickly surrounded the outlaws and after exchanging a blast of gunfire, Marshall Guy called Bushwhackin' Bea out for a street duel. She was subsequently wounded in the arm, but thanks to her fellow outlaws, managed to escape through Crouch's Hardware. The ladies did not get the money or the moonshine, but they were able to kidnap Marshall Guy. He was later released unharmed. The Turkey Creek Outlaws will be back soon, so the citizens of Edgefield should be on the lookout for their return.
The Turkey Creek Outlaws, led by Bushwhackin' Bea (Tonya Guy), included Lucy Cotton (Theresa McMullin), Kit Delgado (Jeannie Matthews Shanks), Dixie Diva (Pamela Moore), Stompin' Sue (Susan Pond), Peach (Lindsey Fellers), Senora Maria (Rae Guy), and Razzle Dazzle (Becky Turner). The Deputies, led by Marshall Guy (Justin Guy), included Glenn Zimmerman, Max Shanks, Craig McMullin, Thomas Reynolds, Sam Crouch, Michael Fellers, Chase Browder, Duncan Swart, and Bill Guy.