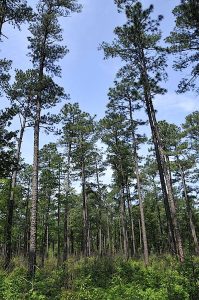 LEESVILLE, S.C. – As enigmatic as it is deadly, "pine decline" has many Southern timber owners wondering whether the condition may be damaging their investment.
South Carolina timber owners and land managers will be able to get the latest information on the problem at a daylong workshop May 6 in Leesville.
"There is still a dispute as to whether pine decline is killing the pine trees. However, they are dying," said Clemson University Extension agent Beth Richardson. "This meeting will give landowners and forest managers a chance to get information on which to base their management decisions. They can listen to the research and decide for themselves if pine decline is a problem in their woods."
The workshop will begin at 8:15 a.m. at the T&S Farm on Pond Branch Road near Leesville. A field tour on the farm will allow participants to see firsthand the effects on longleaf pines that have been slowly dying for the past six years.
No single thing causes the condition that foresters have dubbed pine decline. Instead, a combination of factors — stress, bugs and fungus — are thought to lead to the phenomenon.
Auburn University's Lori G. Eckhardt, co-director of the Forest Health Dynamics Laboratory and director of the Forest Health Cooperative, will lead the program, which offers credits toward Certified Forester credentials.
Click here for registration information. The cost for foresters is $60 and $25 for landowners. After May 1, the cost goes to $90 for foresters and $40 for others. Information also is available from the Orangeburg County Extension office 803-534-6280.
Helping sponsor the meeting are the S.C. Timber Producers Association, the S.C. Forestry Commission, the American Tree Farm System, the Sustainable Forestry Initiative and the S.C. Forestry Association.