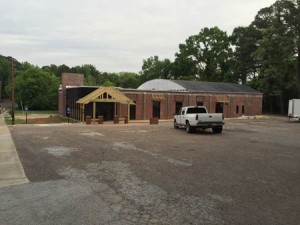 May 1, 2015 – This year's tour weekend will include The Clay Works studio in Edgefield (Buncombe St.) which when opened will be a working and gathering place for five studio potters as well as space for ongoing pottery classes. Local potters will be on the site for the tour, showing their wares.
Local potters in the Greenwood and Edgefield area are collaborating to host the fourth Annual Heritage Trail Pottery Tour & Sale, a series of events on Saturday, May 2 and Sunday, May 3, 2015.
The weekend events also include pottery demonstrations and kiln openings at five host studios with 23 potters selling their recent work.
The tour is sponsored by the Greenwood Area Studio Potters (GASP), a group which was originally formed by students of the professional pottery program at the Edgefield campus of Piedmont Technical College.
The Greenwood Area Studio Potters guild created the tour as a response to increased community interest in pottery and also to provide a chance to "gain a greater understanding of the craft" . . .The pottery community, especially in Edgefield, has been evolving for over 200 years. According to local research, Edgefield's first pottery was called Pottersville and was started by Abner Landrum in the early 1800s. Pottersville is currently listed on the National Register of Historic Properties. A groundhog kiln, similar to those of Pottersville, was recently constructed in Edgefield and will be opened during the Heritage Trail Pottery Tour & Sale on Saturday, May 2, at 9 a.m. Old Edgefield Pottery resident potter, Justin Guy, will be on hand to discuss the kiln and the heritage of pottery in and around Edgefield.
All studios are located conveniently off of Hwy 25 between Greenwood and Edgefield: pArtners in CLAY (Greenwood); Bell House Pottery (Ninety Six); PKPottery (Edgefield); The Clay Works (Edgefield); Old Edgefield Pottery (downtown Edgefield).