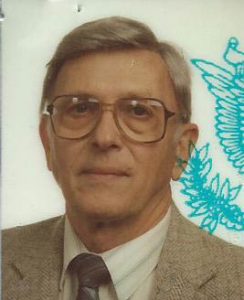 JOHNSTON, S.C. – Mr. William "Bill" Baron, Chief Petty Officer, US Navy, Retired, age 84, of Highway 121, passed away Monday, May 18, 2015 at the Edgefield County Hospital.
Bill was a native of Niagara Falls, NY, having made South Carolina his home for over forty-three years. The son of the late Adolph and Mary Jaworski Baron, he was a life member of the Knights of Columbus and a retired Navy Chief Petty Officer who served during the Korean and Vietnam Wars. After retiring in 1993 as Manager of Industrial Relations at Hubbell Power Systems in Aiken, SC, Bill devoted much of his time to volunteer work mainly with AARP, JET Middle School in Johnston, and the Vocational Rehabilitation Center in Aiken.
Survivors include his beloved wife of 63 years, Geraldine Ruth Hilliard Baron; three daughters, Nancy Szatkowski (Larry), of Medina, NY, Patricia Langille, of Johnston, SC, and Mary Baron, of Johnston, SC; two grandchildren; fourgreat-grandchildren; a brother, David Ryder, of Greenville, SC; and a sister, Kathleen Anderson, of Tonawanda, NY.
A Requiem Mass will be conducted from the Old St. Mary Help of Christians Catholic Church, Park Ave., at 11 AM on Friday, May 22, 2015. Father Gregory Wilson celebrant. Interment will follow in Calvary Cemetery. Military honors will be accorded.
In lieu of flowers, memorial contributions may be directed to the American Heart Association, PO Box 5211, Aiken, SC 29804.
The Historic George Funeral Home, 211 Park Ave., SW, Aiken, SC 29801 (803.649.6234) in charge of arrangements.