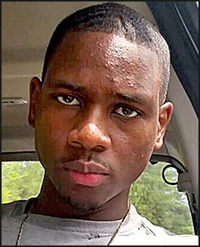 JOHNSTON, S.C. – Funeral and burial services for Marine PFC Carson Devene Culbreath, age 23, of 1600 Mt. Calvary Rd, will be held 12 PM Wednesday, July 1, 2015 at Ft. Jackson National Cemetery, Columbia, SC.
Survivors include: his parents, Bobby and Ethel Brooker Culbreath; three sisters, Clarice Culbreath, Jasmine Culbreath, and Alexia Culbreath.
A 2012 graduate of Strom Thurmond High School, he served in the Marine Corps for three years. The family will receive friends at the funeral home 6-7 PM Tuesday at the funeral home.
Friends may call the residence of his sister, Clarice Culbreath, 3170 St Charles Ave, Aiken or Jackson-Brooks Funeral Home, 126 Fairfield St., SE, Aiken beginning 3 PM Tuesday.